CURRENT REUNIONS

ACHS Class of 1973 40-Year Reunion Saturday, June, 29, 2013
9am to 11am breakfast and tour of the new high school (7200 Quebec Street)
Dinner and dance at the T.E.V. Edelweiss Club 6495 Monaco Street, 6pm to 11pm
$35.00 PER PERSON
NOTE: on Sunday June 30 the Union Reunion group is having the all-class luncheon. Our class will be recongized as the 40-year class. This is separate from our reunion. A separate invitation will be mailed by the Union #1/Adams City High School Alumni Association. An additional fee will apply.
For additional information contact:
Debra Hage Bullock at dlhbullock@q.com
Connie Griebel at connie.griebel@gmail.com

PREVIOUS REUNIONS

ACHS Class of 1962 and Friends 50-Year Reunion: June 22-24, 2012.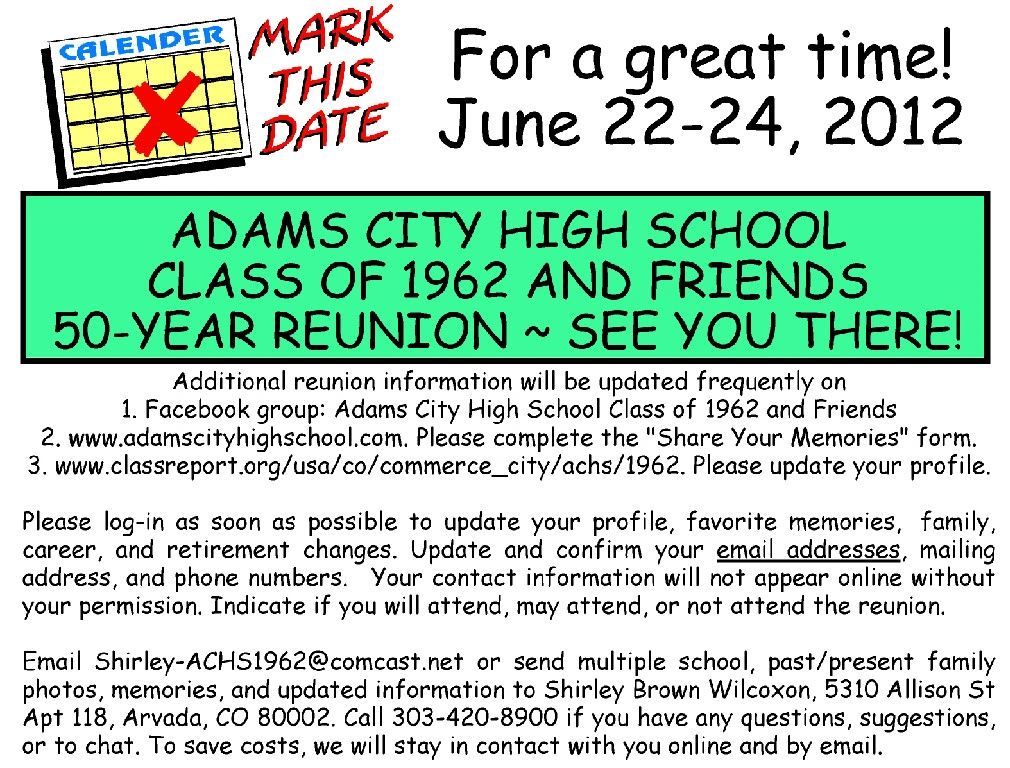 Friday, June 22, 2012: Open house at Jim Garcia's home
Saturday, June 23, 2012: Dutch Treat Breakfast at Country Buffett
Saturday, June 23, 2012: Casual dinner at Charlotte's Web
Sunday, June 24, 2012: Class will be honored at the Alumni Luncheon

_______________________________________________________
Union #1- Adams City High School Alumni Association Annual Luncheon
Sunday, June 24, 2012 12:00 pm-3:00 pm, Ramada Inn, 120th and I-25, Northglenn, CO, Held annually on the last Sunday in June.
______________________________________________________________________________









ACHS 1965 - 45 Year Reunion
45 Year Reunion Announcement!
---
---
ACHS 1970 - 40 Year Reunion
40 Year Reunion Announcement!
---
DINNER AND DANCE
Saturday, July 24, 2010 - 7:00 pm
EL JARDIN, COMMERCE CITY, COLORADO
35.00 PER PERSON
35th CLASS REUNION, JULY 24TH, 2010, DINNER AND DANCE AT EL JARDIN, COMMERCE CITY, COLORADO, 7:00 TO 11:00, PICNIC AT LOCAL COMMERCE CITY
PARK(TO BE DETERMINED), JULY 25TH, 11:00 A.M. TO ??. MORE DETAILS TO
FOLLOW. LOOK FOR FACE BOOK FOR CLASS OF 1975 TO BE CREATED WEEKENDING
NOVEMBER 9TH. LOOK FOR MORE DETAILS ON CLASSMATES.COM. COMMITTEE
MEMBERS INCLUDE MYSELF, DEBBIE GALLEGOS,RHONDA SOUTH, CINDY SALAZAR AND CONNIE DENTON.

NEED COMMITMENTS FOR DINNER/DANCE BY END OF FEBRUARY WITH $35.00 PER PERSON OR $70.00 PER COUPLE BY CHECK MAILING TO THERESA MARTIN, 11672 JASMINE COURT, THORNTON, CO 80216, MADE PAYABLE TO ACHS CLASS OF 1975.
NEED TO MAKE COMMITTMENT TO EL JARDIN BY MARCH. PICNIC FREE TO CLASSMATES AND THEIR FAMILIES, BRING YOUR OWN PICNIC LUNCH, PERMIT FOR ALCOHOL AND RENTAL OF PAVILION TAKEN CARE OF.

GET HOLD OF AS MANY OF THE CLASSMATES YOU KNOW. CAN ALSO CONTACT ME AT 303-457-9554.

SEE YOU THEN, THERESA (ESPINOZA) MARTIN
Event Contact: THERESA MARTIN (Maiden name Espinoza)
Icebreaker
Friday, August 6, 2010 - 7:00 pm
to be determined
to be determined
Please let us know if you are interested in coming to an icebreaker and if you have any suggestions for where we should meet, please email Susan at the above email address. Her phone number: 303 680 0120
Event Contact: Susan Slocum Luppa
ACHS 1975 - 35 Year Reunion
35 Year Reunion Announcement!
---
ACHS 1980 - 30 YEAR REUNION
Adams City High School 1980 Class Reunion
Your Volunteer Reunion Committee Chairperson
Trudy McKee Boudreau
Adams City CLASS OF 1980
HIGH SCHOOL 30 Year Reunion
Saturday~August 14, 2010
Reunion Celebration
Dave & Busters - Showroom
10667 Westminster Blvd
Westminster, CO
6:30pm - Reception, Cash Bar & Class Photo
7:30pm - Buffet Dinner & Dancing
Party Casual Attire
Reunion Information
Reunions Unlimited is working with your committee to assist in the production of the reunion.Date, location
and reunion offerings are decisions made by the committee in order to provide an enjoyable event.
The price for this special celebration is $75 per person, $150 per couple.
The cash/check payment discount price is $72 per person, $144 per couple.
Make checks payable to: REUNION.
No confirmation or tickets will be sent to you; there will be a registration table at the reunion event.
Written requests for refunds (less $25 processing fee) will be accepted upon written notification
no later than July 30, 2010.No refunds will be disbursed after this date.
Full Payment is due July 7, 2010.
If you have any questions, please call Reunions Unlimited at 303-694-1888 or 800-868-7513 (M-F 10 am to 4 pm MST),
email us at reunioninfo@weplanreunions.com, or write to: 6851 S.Holly Circle, Suite 100, Centennial, CO 80112.
For your convenience, use our FAX 303-694-6175 or visit us online at www.weplanreunions.com
for MC/VISA/DISCOVER/AMEX reservations.
PREVIOUS ACHS 1979 – 30 Year
Reunion
Saturday, August 15 6pm- 11pm

Fox and Hound Smokehouse & Tavern, 4
750 W 120th Avenue,
Westminster, CO
$35 Per Person For Smokehouse Buffet BBQ and Appetizers

Contact reunion committee members at achsreunion79@gmail.com

PREVIOUS ACHS 1984 - 25 Year Reunion
August 1-2, 2009 Sharp's Road House and Pioneer Park, Commerce City, CO
We are looking forward to re-uniting and sharing old and new memories. Bring your yearbooks and any pictures to share.
Saturday night will be at Sharps Roadhouse in Commerce City.
Picnic will be at Pioneer Park in Commerce City.
Event cost is $15.00 per adult.
RSVP to
Susan Zale Van Ness
or Tracey Snyder or
Jim Goodwin
PREVIOUS ACHS 1989 - 20 Year Reunion

August 7, 2009 Sharp's Road House, Commerce City, CO
We will be hosting this event at Sharp's Roadhouse 6496 Hwy 2 on August 7th from 7:00pm til closing. It will be a cash bar but food will be provided.
Then on August 8th bring the family and your sun tan lotion for a day at the park. We will be meeting at Pioneer Park located at 60th and Holly (across from Holly Park Apartments) for a picnic starting at Noon. We will provide hamburgers and hot dogs and you bring the rest.
Cost is $30.00 per person for the entire event
Contact
Jennifer Manchengo Lord
Event Contact:
Jennifer (Manchego) Lord , Joe Sandoval, Chrissy (Doyle) LaCrue, Kelly (Black) Pepin, Denise (Scott) Roth, Kathy (Minor) Santistevan or Kristi (Nesbitt) Wilkes
PREVIOUS ACHS 1999 - 10 YEAR REUNION WATCH FOR DETAILS
| | |
| --- | --- |
| Start Time: | Saturday, August 14, 2010 at 6:30pm |
| End Time: | Sunday, August 15, 2010 at 12:00am |
| Location: | Dave & Busters ~ Showroom 10667 Westminster Blvd |
Class of 1965 45th Reunion
Friday, August 27, 2010 - 6:00 pm
Red Lion Inn, I-70 and Quebec
Friday night social $5, Saturday night dinner/dance $35 includes memory book, Sunday picnic $5 total cost $45. Memory book is $15 it self.
All dates are set for Aug. 27, 28, 29, 2010. A Sunday picnic will be at Bert & Bob Harpin's again. The dates with Red Lion Inn and with Bert & Bob and all other information have been finalized.
The first slide show above is of our 40th Reunion, the second is the Red Lion Inn so you can see what it looks like. We got a real good deal from them for our reunion. The cost is $79 per night all information is in the letter/registration you will receive in the near future.
Event Contact: Virginia Todd
Make Checks Payable To: ACHS
Mail Payment To: ACHS 65 Reunion, 8319 West Calhoun Dr., Littleton, CO., 80123